Details Paeonia Hybrid Eliza Lundi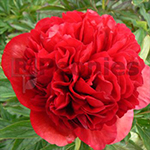 Krekler (1976)
Eliza Lundi is a beautiful dark red and double bomb Peony. It opens in a deep ruby red and grows to a large globular form in the early season. Medium tall, vigorous, makes a wide bush and stands well. The leaflets are dark green and the appearance holds reasonably well as the summer progresses. Eliza Lundi is a perfect Peony for use in pots.
Properties Paeonia Hybrid Eliza Lundi
color: red
shape of flower: full double bomb
size of flower: 20 cm
fragrance: fragrant
time of blooming: very early
side buds: none
staking: no staking
height: 70 cm
This information has been compiled with the utmost care. The offer is without any obligation. At the content of this text can no rights or claims be made in any way whatsoever.