Details Paeonia Hybrid America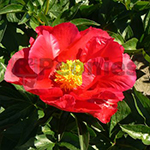 Rudolph, 1976
America is a red single peony, blooming in the very early season. The flowers are well formed and large, and the color is excellent. The stems are strong, straight and heavy. America is perfect for cut flower production as well for landscaping in gardens and city parks. APS Gold Medal award in 1992. To order America only for wholesale, please contact one of us.
Properties Paeonia Hybrid America
color: red
shape of flower: single
size of flower: 20 cm
fragrance: no
time of blooming: very early
side buds: no
staking: no staking
height: 90 cm
This information has been compiled with the utmost care. The offer is without any obligation. At the content of this text can no rights or claims be made in any way whatsoever.