Details Paeonia Lactiflora Bowl of Cream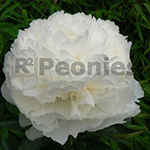 With large bowl shaped flowers is Bowl of Cream one of the most beautiful cut flower Peonies. The strong, upright stems stand firm and hold the huge pure white flowers easily. This slow starter has healthy dark green foliage. Very strong grower and blooms easily. This Peony was an APS Gold Medal Award winnar in 1981. Bowl of Cream is my personal favorite white Peony.
Properties Paeonia Lactiflora Bowl of Cream
color: white
shape of flower: full double
size of flower: 20 cm
fragrance: sweet
time of blooming: late midseason
side buds: some
staking: no staking
height: 85 cm
This information has been compiled with the utmost care. The offer is without any obligation. At the content of this text can no rights or claims be made in any way whatsoever.