Details Paeonia Lactiflora Catharina Fontijn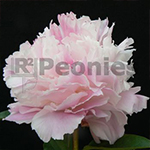 Van der Zwet / van der Valk (1952)
Catharina Fontijn is an extreme beautiful pink coloured, double Peony. With the nice fragrance is the Catharina Fontijn blooming in the middle season. With flowers up to 15 cm and the dark foliage it's used a lot for cut flower production as well for landscaping in gardens and city parks. Every year older the plant gives more and more flowers.
Properties Paeonia Lactiflora Catharina Fontijn
color: light pink
shape of flower: full double
size of flower: 15 cm
fragrance: mild and sweet
time of blooming: midseason
side buds: some
staking: no staking
height: 95 cm
This information has been compiled with the utmost care. The offer is without any obligation. At the content of this text can no rights or claims be made in any way whatsoever.