Details Paeonia Lactiflora Peter Brand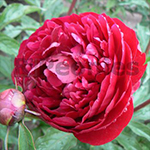 Unknown (before 1937)
Peter Brand is one of the best, very dark coloured Peonies in the late season. With a beautiful double, very deep maroon red flowers and yellow stamen in between. Peter Brand has an excellent use for cut flower production as well for landscaping in gardens and city parks all over the world. Every year older the plant gives more and more flowers. In Holland you can find the best conditions for nursing Peonies, Pfingsterrosen or Pivoines. Dutch growers sell high quality Peony tubers all over the world.
Properties Paeonia Lactiflora Peter Brand
color: dark maroon red
shape of flower: full double
size of flower: 15 cm
fragrance: no
time of blooming: late season
side buds: some
staking: no staking
height: 75 cm
This information has been compiled with the utmost care. The offer is without any obligation. At the content of this text can no rights or claims be made in any way whatsoever.