Details Paeonia Lactiflora Sarah Bernhardt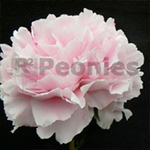 The world famous Sarah Bernhardt is a very old variety but still one of the best. This extreme beautiful, of the purest pink and double Peony is an absolute winner. With the slight fragrance is the Sarah Bernhardt one of the latest flowering Peonies. With flowers up to 15 cm and the dark foliage it's an eye catcher in your garden. Every year older the plant gives more flowers.
Properties Paeonia Lactiflora Sarah Bernhardt
color: pink
shape of flower: full double
size of flower: 15 cm
fragrance: mild and sweet
time of blooming: very late
side buds: some
staking: no staking
height: 80 cm
This information has been compiled with the utmost care. The offer is without any obligation. At the content of this text can no rights or claims be made in any way whatsoever.