Details Paeonia Officinalis Alba Plena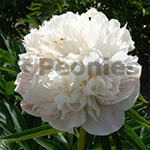 Alba Plena is one of the first blooming double and white Peonies. Not spectacular, but early. This variety requires some staking because the flowers are a little short. Alba Plena is sometimes used for cut flower cultivation but has more use for landscaping. To order Peonies for wholesale, contact one of us for details.
Properties Paeonia Officinalis Alba Plena
color: white
shape of flower: full double
size of flower: 15 cm
fragrance: fragrant
time of blooming: very early season
side buds: some
staking: staking
height: 65 cm
This information has been compiled with the utmost care. The offer is without any obligation. At the content of this text can no rights or claims be made in any way whatsoever.