Details Paeonia Hybrid Coral Supreme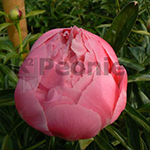 Wissing/Klehm, USA (1981)
Coral Supreme has salmon pink, coral buds wich open to pleasing coral-peach flowers, passing pale  and creamy beige. Numerous strongly cupped petals grade smaller inward, surrounding a cluster of light yellow stamens. The tall stems from Coral Supreme are reachy and leaning with the open flower, consider adding mechanical support when to flourish in the landscape. Maybe to tall for cut flower growing. Suitable for indoor growing in greenhouses.
Properties Paeonia Hybrid Coral Supreme
color: salmon pink
shape of flower: semi double
size of flower: 20 cm
fragrance: mild
time of blooming: early
side buds: none
staking: staking
height: 100 cm
This information has been compiled with the utmost care. The offer is without any obligation. At the content of this text can no rights or claims be made in any way whatsoever.