Details Paeonia Lactiflora Candy Stripe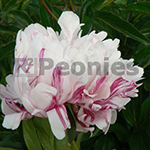 Anderson (1992)
Candy Stripe is a special Peony with beautiful white flowers and purple red stripes all over the flower. This peony is a collectors item. There's no one almost the same as this beauty. With the slight fragrance is Candy Stripe blooming in the middle season. This Peony or Pfingsterrosen is used a lot for cut flower production as well for landscaping in gardens and city parks all over the world.
Properties Paeonia Lactiflora Candy Stripe
color: purple red striped
shape of flower: full double
size of flower: 15 cm
fragrance: slightly
time of blooming: middle season
side buds: some
staking: some
height: 80 cm
This information has been compiled with the utmost care. The offer is without any obligation. At the content of this text can no rights or claims be made in any way whatsoever.